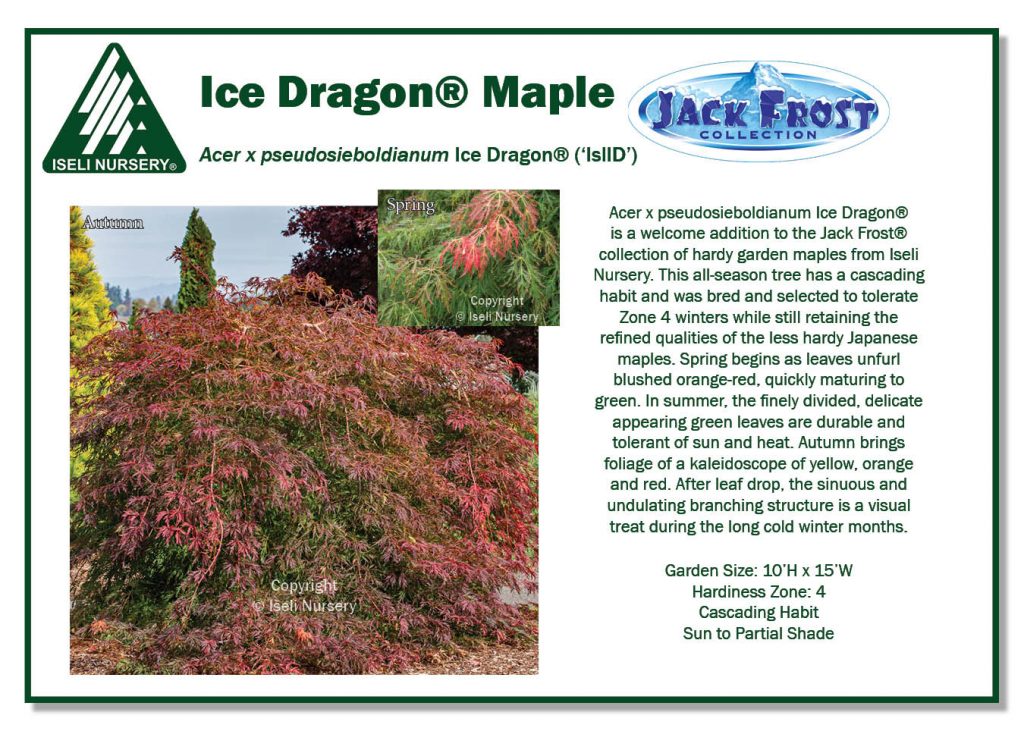 Ice Dragon® Maple – Jack Frost® Collection
Acer x pseudosieboldianum Ice Dragon® is a welcome addition to the Jack Frost® collection of hardy garden maples from Iseli Nursery. This all-season tree has a cascading habit and was bred and selected to tolerate Zone 4 winters while still retaining the refined qualities of the less hardy Japanese maples. Spring begins as leaves unfurl blushed orange-red, quickly maturing to green. In summer, the finely divided, delicate appearing green leaves are durable and tolerant of sun and heat. Autumn brings foliage of a kaleidoscope of yellow, orange and red. After leaf drop, the sinuous and undulating branching structure is a visual treat during the long cold winter months.


Acer x pseudosieboldianum Ice Dragon® ('IslID')
Garden Size: 10'H x 15'W
Growth Rate: 12-15″/year
Iseli Introduction!
Hardiness Zone 4
Cascading Habit
Sun to Partial Shade
Green Garden Maple
Download a printable point of sale sign HERE.
View General planting instructions HERE.


← Back to the Jack Frost® Collection page