Jean Iseli was a visionary and his excitement and enthusiasm were contagious as he shared his love of new conifers. We at Iseli have identified a group of plants that were either favorites of Jean's during his lifetime or have been chosen and named for him because of the legacy he created. The Jean Iseli Signature Series plants include some new introductions that were personally selected by Jean and others at Iseli that captured Jean's vision of what makes a great conifer; Things like unique form or color, hardiness or just superior usefulness in the garden landscape.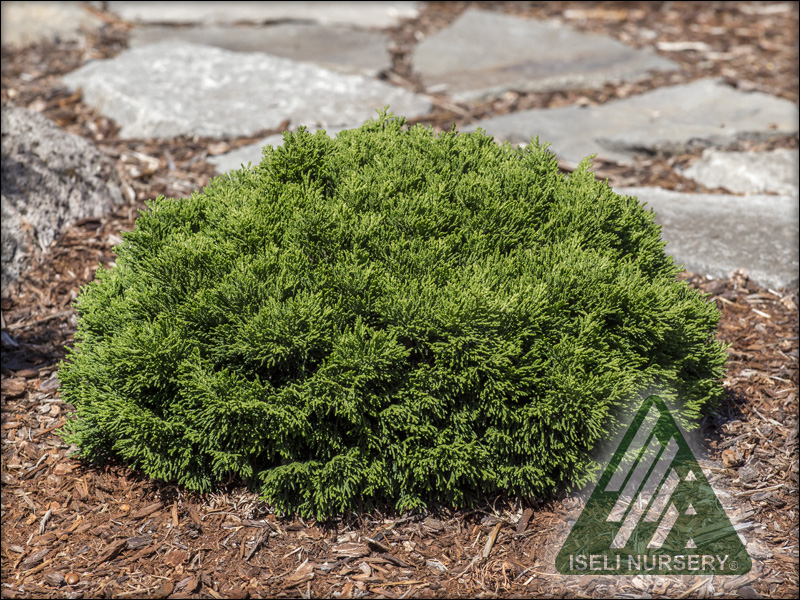 Chamaecyparis obtusa 'Just Dandy', after years of evaluation, both at Iseli Nursery, and at sites all across the USA, we have added this exceptional new introduction to our series of premium conifers. Chosen out of 50,000 seedlings planted in 1980, 'Just Dandy' has been selected for its unique and appealing habit. It has also proved to grow well in a number of climates and soil conditions all across the country. With tight, dense, finely textured foliage normally associated with conifers of extremely slow growth rates, 'Just Dandy' grows much more quickly, filling in its garden space while providing the look and feel of a more diminutive form. It really is, just dandy!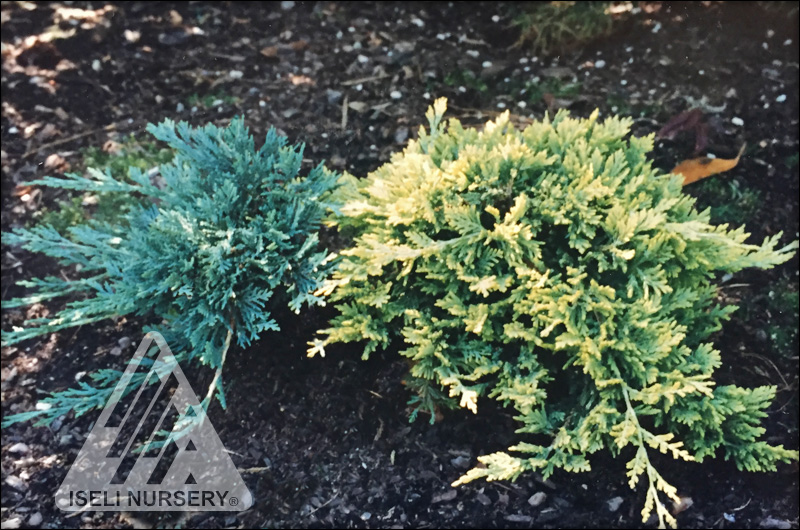 Juniperus horizontalis 'Mother Lode' was discovered in a large crop of J.h.'Wiltoni' juniper at Iseli Nursery in 1980. This amazing little plant was growing with two main shoots – one the normal 'Wiltoni' blue gray and the other a bright golden yellow. Jean had the discovery planted from its 1 gal. container into the garden near his office so he could keep an eye on it. That winter, the bright yellow portion became a pinkish orange color, again very unique and eye-catching. The propagation process began and today, 'Mother Lode' is available and is being shipped and planted in gardens all over the country. If you need a low growing carpet of seasonal color, we hope you'll give 'Mother Lode' a special home in your garden.
Picea glauca 'Jean's Dilly'® is an exceptional new, compact form of the Dwarf Alberta Spruce. Discovered in 1981 as a witches broom on Picea glauca 'Conica', 'Jean's Dilly' was named by his brother, André after Jean's death in 1986. This great new form is slower growing than 'Conica' with smaller and thinner rich green needles. Overall the plant has a fine textured, neat appearance making it desirable in formal gardens but will also work very well in rock gardens and perennial borders.
Picea glauca 'Pendula' is an outstanding weeping selection. In 1958 the Morton Arboretum in Illinois planted this selection from D. Hill nursery, where it was propagated from a tree growing in a native stand near Guelph, Ontario. In 1982, Jean Iseli "rediscovered" the specimen and fell in love with it. It has become one of our favorites for its distinctive formal narrow conical shape. It has very stiffly held and downward hanging branches of grayish green foliage. A very stately and magnificent specimen.
Pinus mugo 'Slowmound' is one of those plants with the characteristics many gardeners have always wished for in mugo pines. Discovered as a true dwarf seedling at Iseli nursery, 'Slowmound' is a tidy, dark green, mounding plant that will remain compact enough to plant in even the most confined areas. This cultivar is cold hardy and being propagated by rooted cuttings makes it consistent in form.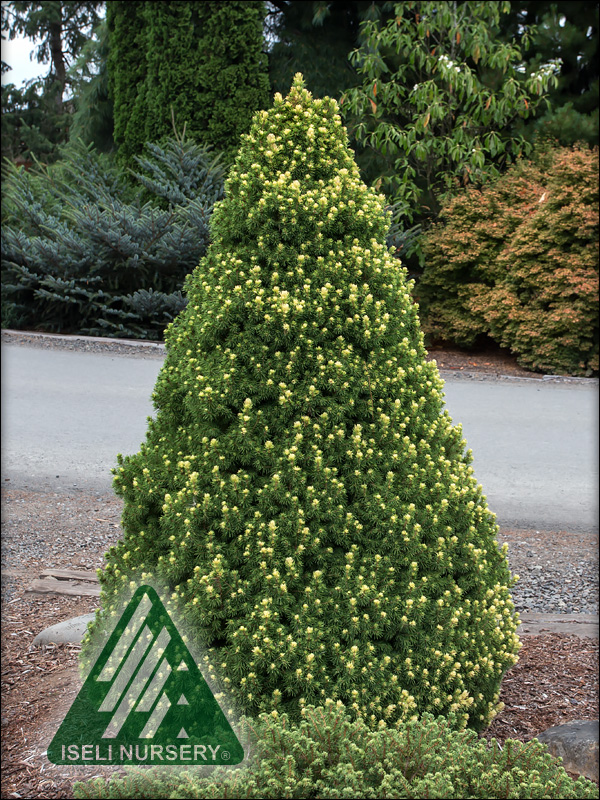 Picea glauca 'Rainbow's End'® is a conifer that defies the norm when one thinks about conifers. Discovered as a plant mutation at Iseli nursery in 1978, its spring foliar growth is light green, hardening to a dark green and not particularly different from the Dwarf Alberta Spruce. However, this fascinating plant will dazzle you with its mid-summer surprise of bright creamy golden yellow new growth. This bright new growth makes a dramatic contrast against the older dark green foliage. While enjoying this garden treasure, one's imagination may drift to thoughts of finding a pile of leprechaun's gold at the end of the rainbow.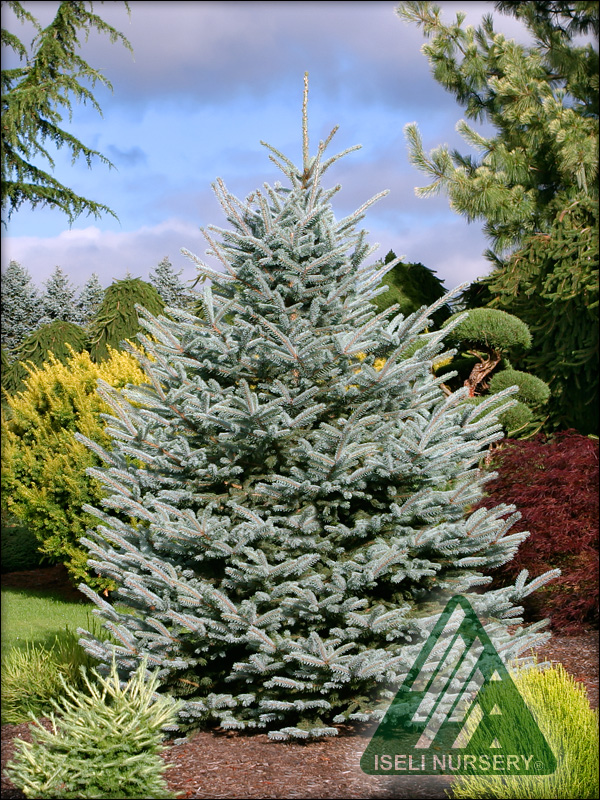 Picea pungens 'Fat Albert' was personally selected by Jean and whimsically named by Don Howse, a longtime friend of the nursery and self-proclaimed "plant addict." This perfectly predictable blue spruce has become the consumers' standard for Colorado blue spruce. Chosen out of thousands of seedlings, 'Fat Albert' was picked for its strong pyramidal form, consistent blue foliage color and its ability to be mass-produced as rooted cuttings. A fantastic formal tree that is destined to be in every landscape design calling for "blue spruce."
We hope that you too will enjoy the Jean Iseli Signature series of plants. Contact your customer service rep. or ask for them specifically at your fine local garden centers.