Containing conifers for year-round pleasure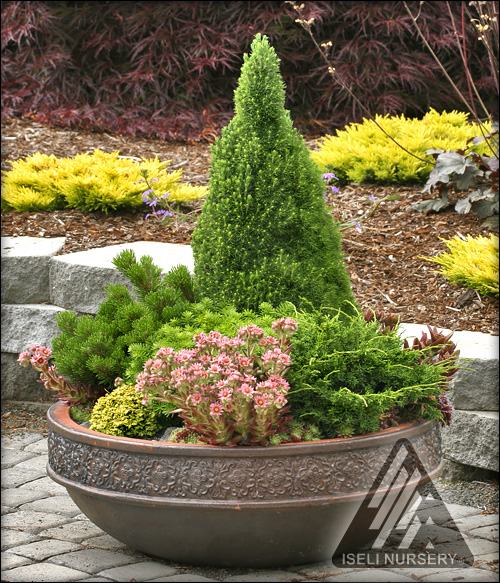 As days shorten toward winter, the summer flowers in our patio containers fade away, leaving bare soil and unrealized potential behind. What's a gardener to do? Luckily, elegant, dramatic conifers make an excellent choice for container gardens, with or without familiar, but fleeting flowers. You can count on conifers to provide twelve full months of color.
Slow-growing, dwarf conifers come in an amazing array of exciting colors, snazzy shapes and diverse textures, so gardeners can find superior selections to compliment any style of home. Not only beautiful, conifers are durable plants by nature, with tough, trouble-free constitutions that make them easy to grow. They need little care to maintain their elegant good looks. Most popular selections are cold hardy to USDA Zone 4, and most dwarf conifers grow so slowly that, with appropriate care, they can thrive for years before outgrowing their spaces. Add seasonal flowers to change the scene during the year and to complement the structure of the conifers.
The popularity and availability of dwarf conifers has grown dramatically in recent years. Today, better garden centers offer small conifers that serve as the vertical accent for container arrangements: narrow spires and conical forms in colors that range from blue and green to yellow and white. Gardeners can also choose dense, compact conifers shaped like globes or buns, also in a range of colors, with a fantastic selection of textures. Some of them sport a soft, fluffy feel; others offer sturdy, stiff needles; and still others produce fern-like foliage that curves and twists or delicate needles that weep and drape. The options for dwarf conifers to fill containers are limited only by the imagination of the gardener.
The ABC's of Dwarf Conifer Choices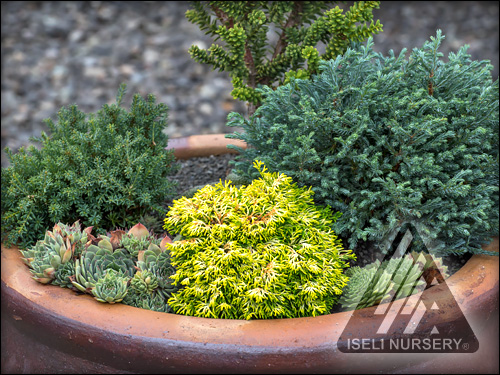 Abies
True firs come in beautiful, adaptable garden forms with exceptional uniformity and regular branching. Selections include naturally low, prostrate forms that spill over the edges of containers, tiny varieties for troughs, and weeping forms that make outstanding focal points. Stiff, pointed needles contribute rich colors and tight textures to garden scenes, and some of them produce upright ornamental cones in bright colors too.
Chamaecyparis
Choices of the popular, diverse Chamaecyparis genus offer a wide range of color, texture, and shape. Chamaecyparis obtusa, the False Hinoki Cypress, takes full sun or partial shade and lends sprays or fans of fine evergreen foliage to container scenes. C. pisifera, the Threadbranch Cypress claims excellent cold hardiness and adds feathery foliage to the choices.
Juniperus
A wide variety of growth habits and colorful seasonal foliage assures that there is a juniper for nearly every design need. Most junipers are extremely cold hardy and resist pollution. Selections supply striking colors, superior habits and interesting shapes.
Picea
Spruces also offer variety in size, shape and color, including distinctive choices with blue, green, gray, gold, yellow, silver, white and mixed colors. Some are very small, low, spreading domes; others offer an upright presence or a dramatically prostrate form. All spruces make striking statements and adapt to a wide range of climates.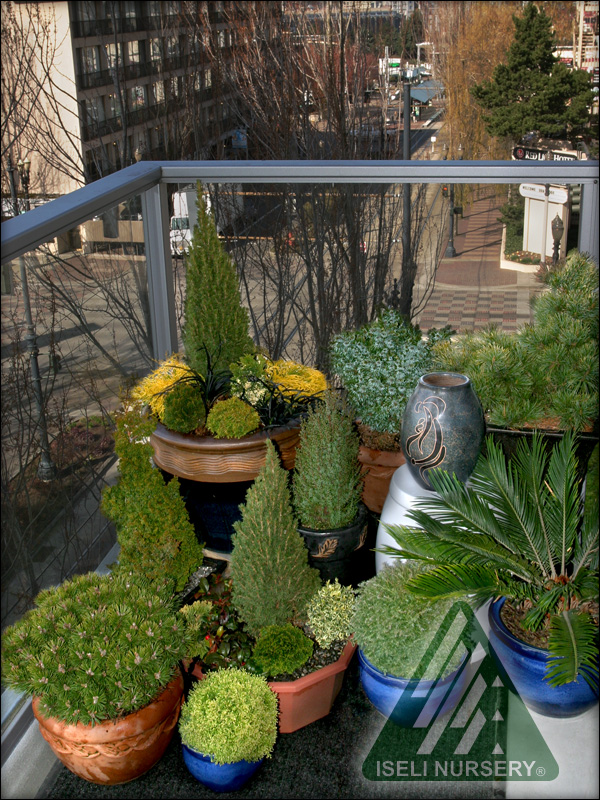 Pinus
Pines are among the most striking of the ornamental conifers, and they come in a diverse palette of useful forms and ornamental colors with familiar evergreen texture that contributes year-round character and class to containers. Undemanding pines are exceptionally adaptable and require little maintenance. They can develop superior drought tolerance, and once established, require little pruning or fertilizing. Columnar pines add height, but require only a narrow footprint in the design. Fine pyramidal forms provide vertical accent. Low, compact spreading and mounding pines become fabulous groundcovers, and pendulous or weeping trees provide high drama. Dwarf and miniature mugo pine cultivars come in tight, mounding, compact forms, with good adaptability and hardiness.
Tsuga
Hemlocks are graceful, finely textured evergreen trees that are available in a range of shapes and sizes from tiny little buns to larger forms with whispy foliage that seems to dance in a gentle breeze. Most Hemlocks are dark green, but several are available with bright golden yellow or white foliage. The elegant hemlocks like cool, moist northern climates, where they can be grown in sun or partial shade.
Choosing a Container for your dwarf conifers
To get started decorating your house and yard with container gardens, look first to containers you already own. Conifers are very adaptable and don't need a particularly large root run, so bowls, dishes and boxes all work well, as long as they drain well. To create a certain type of look, visit good garden centers to hunt for pots that appeal to you. You might like rustic troughs, which you can fill with an assortment of complementary conifers and succulent plants, especially sedums and sempervivums (hens & chicks). Trough gardening to create the look of alpine landscapes in miniature dates back hundreds of years and is still popular today. For instance, an upright dwarf Alberta spruce contrasts nicely with a draping yellow juniper and a stout dwarf mugo pine. Together, they create a simple, beautiful scene. Elegant pots and statuesque urns with richly hued glazes make excellent sites for upright conifers with colorful small grasses and trailing conifers draping over the edges. Try adding a clump or two of a small strappy grass, such as black mondo grass or golden or white striped Japanese forest grass. That way, all the elements of design are covered. Even seasonal window boxes filled with fluffy flowers benefit from the structure provided by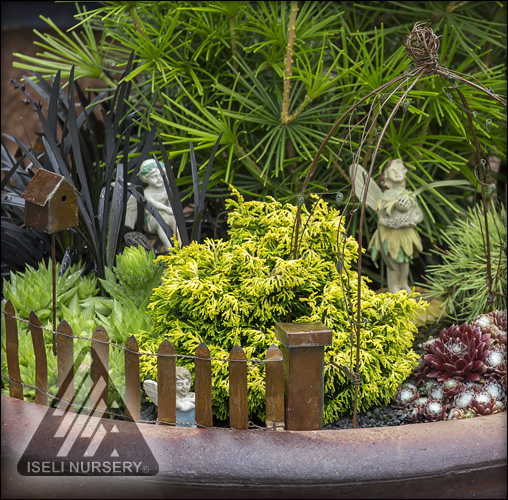 conifers. Just remember to choose pots that are at least two to three inches larger all round than the nursery pots they come in.
Caring for dwarf Conifers in Containers
Contained conifers do best in a moist, well-drained soil that is high in organic matter. Most local garden centers supply a variety of high quality potting media. Submerge your plant's root ball in water to eliminate air bubbles, and then gently remove the plant from its container without damaging the roots. Plant the conifer carefully in a container at the same depth it has been growing.
In containers, conifers need a regular watering schedule and protection from winter cold extremes. Light, but regular applications of fertilizer for conifers are best. Water regularly throughout the year, and pay special attention to months of active growth and dry weather, even in winter.
Try including dwarf conifers in container arrangements, and you will enjoy the unmatched grace and character of these trouble-free plants for years to come.